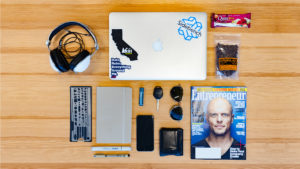 Name: Geoff Brummett
Position: UI Designer
Years at Sidebench: 1
Hometown: Redlands, CA
Could you tell us a little bit about your background and how you found your way to Sidebench?
I studied graphic design and photography in college. So I do have a solid background in design. When I landed my first job I had no idea there was a separate design field focused on Apps/Web. I was given the opportunity to delve into that field while doing my graphic design duties. I learned what I could and then ventured out with that field as my true north. I did the startup thing again this time as a product designer. I always wore multiple hats. Branding, marketing, and UI were all in my wheelhouse. I was able to learn more UX directly from UX/front end developer. I knew I wanted my next step to be more of the same but I was also seeking variety. An agency move was obvious. Having friends working in agencies at that time gave me insight into typical day to day tasks and position duties. Most dealt more with surface level visuals, campaign starting points without getting into larger parts of a given product. Sidebench is a different kind of agency, one that is much more technical and in a way, more realistic. We do great work and couple that, in tandem, with technical feasibility.
Which item have you carried with you the longest and where did it come from?
Micron pen. I've had a set of Micron pens since I left college. I've used them for just about everything. Having different stroke thicknesses works well for lots of projects.
What is your most indispensable item and why?
The Entrepreneur Magazine featuring Tim Ferris is here as a stand in for a continuous learning mindset. My brain is without a doubt my most important asset. It's what separates humans apart in the animal kingdom. Just like other muscles in your body, your brain requires continuous exercise to keep in shape. Always seek knowledge.
—
If you want to learn more about Geoff and stay up to date with what he's working on, you can follow him on Dribbble, VSCO and Twitter.