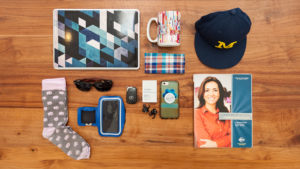 Name:  Josh Koenig
Position: Business Development Manager
Years at Sidebench: 3
Hometown: Sherman Oaks, CA
Could you tell us a little bit about your background and how you found your way to Sidebench?
I was introduced to Sidebench by a friend when the company was just starting to take off, and I was in the midst of a career transition. I started off in the mailroom at William Morris Endeavor and I spent a year working at nonprofit called Heart of Los Angeles Youth, but I had always been fascinated by the tech industry and digital products. I met Kevin and Nate (Sidebench Cofounders) and was instantly interested in what they were doing.  I joined the company as the second full-time employee.
What is your most indispensable item and why?
This would have to be a toss up between my phone and my car key. I grew up in LA and would have no idea how to navigate the city without my car. I love the freedom it provides and probably spend way too much time in it, but wouldn't have it any other way. My car would be much less enjoyable without my phone, which provides the soundtrack (usually podcasts like This American Life and Pardon My Take) and the GPS, without which I would be bored and lost.
Which item have you carried with you the longest and where did it come from?
While my technology and fashion items are frequently replaced and even the car is pretty new, I've had my Michigan hat since I graduated. Being a Michigan Wolverine is an important part of my identity and I enjoy the opportunity to flaunt my fandom of the football program through my attire. I've had people comment on this hat everywhere from Canada to San Diego to Jerusalem, always with a friendly "Go Blue!"
—
If you want to learn more about Josh and stay up to date with what he's working on, you can follow him on LinkedIn and Twitter.